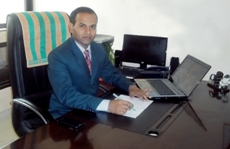 Prof. V.P.Nikhade
Principal.



I firmly believe that, technical education has great potential to change the quality of people.

With the emergence of vast domestic market and relatively low - cost worker with advanced technical skills and knowledge, India is on the verge of becoming a super power.

Globalisation led by rapid and breath-taking advances in information and communication technologies, has resulted in the creation of knowledge economy, economy that creates, disseminates and uses knowledge to enhance growth and development .

I therefore strongly advice eligible students to pursue technical education as their careers. Recognizing the trends, relevance and opportunities, the management of Brahma Valley College of Technical Education, Nashik has established this Institute with an objective to provide quality education. I welcome you to the 'Brahma Valley College of Technical Education' Campus. Brahma, the God of creation, who created this world! During our endeavour we take every effort to transorm our students, with all necessary knowledge and skills, into competent technocrats for the competetive world of tomorrow. Staying at Brahma Valley College of Technical Education is a uniquely rewarding experience. We always place students above everything.